JX Isostatic graphite has the features of high purity, good machining capability, high compressive and bending strength, low resistivity, high temperature resistant, oxidation and corrosion resistant. High-purity graphite is widely used in making EDM (Electronic Discharge Machine) electrodes, diamond sintering molds, continuous molding mould, crystal over heater, etc.
Instructions for use
1.The crucible should be stored in ventilated and dry environment to avoid damp.
2.The crucible should be handled with care, and it is strictly forbidden to shake or roll, so as not to damage the protective layer on the surface of the crucible.

3.Before use, the crucible should be roasted in advance, and the baking temperature should be gradually increased from low to high, and the crucible should be constantly turned over to be heated evenly, to evaporate the water in the crucible body, and the preheating temperature should be gradually increased to over 500 (if improper preheating causes the crucible to flake and burst, which is not a quality problem and will not be returned or exchanged)

4.The crucible furnace shall be matched with the crucible, the upper and lower and surrounding voids shall meet the requirements, and the furnace cover shall not be pressed on the crucible body.

5. The flame should be sprayed on the base of crucible when in use, and the crucible body should be avoided7. from direct flame spraying.

6.Charging must be slow, and do not charge too much, too tight, so as not to crack the crucible.

7.The crucible tongs used for loading and discharging should match the shape of the crucible so as not to damage the crucible.

8.The crucible is best to be used continuously, so as to better play its high performance.

9.It is necessary to control the dosage of additives in the melting process,overuse will reduce the life of the crucible.

10.The crucible should be knocked gently when removing slag and coking on the inner and outer walls to avoid damaging the crucible.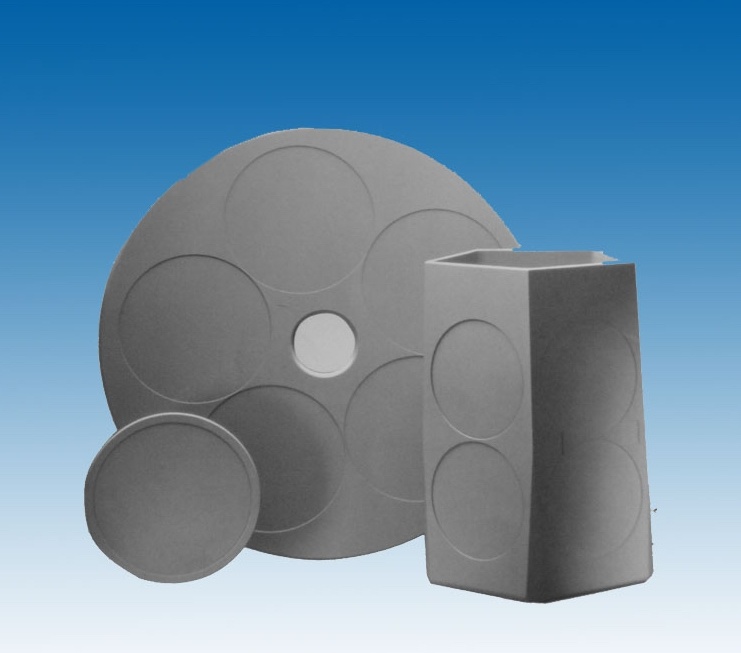 Index of Isotatic Graphite
Grade
JIC1-BD
JIC2-SJ
JIC3-LZ
JIW4-GC
BD
BD2
SJ1
SJ2
SJ3
LZ1
LZ2
LZ3
LZ4
GC1
GC2
Bulk Density ≥g/cc
1.85
1.80
1.80
1.75
1.70
1.85
1.80
1.75
1.70
1.80
1.85
Electric Resistivity µΩm
10~12
11~13
15
15
15
15
15
15
15
13
13
Compressive Strength Mpa
90
86
80
65
55
90
86
65
55
70
85
Flexural Strength Mpa
45
40
37
28
25
45
40
28
25
40
45
Shore Hardness
60
50
55
50
50
60
55
50
50
45
56
Ash Content PPM
500/50
500/50
700/50
700/50
700/50
700/50
700/50
700/50
700/50
800
800
Average Granularity µ m
22
22
22
22
22
22
22
22
22
13
13
Coefficient of Thermal Expansion ×10-6/centigrade
4.3
4.1
4.0
3.8
3.6
4.3
4.0
3.8
3.5
3.2
3.5
Young's Modulus Gpa
11.5
10
11.5
10.5
9.5
11.5
11.5
10.5
9.5
11
11
Applications
Semiconductor(Monocrystalline silicon),ceramic sinter,vacuum furnace,electronic products sinter,continuous casting
cemented carbide sinter,vacuum furnace,diamond sinter,precious metals smelting,sealing products,graphite moulds,continuous casting etc
kinds of graphite moulds in continuous casting,precious metals smelting,glass,electronic industry,etc
Semiconductor,photovoltaic, nuclear, aviation and aerospace
Scientific research,atomic energy,nuclear reactor
Size
cylindric rods:Φ400x450mm, Φ450x450mm,Φ480x500mm, Φ500x600mm,Φ520x350/600mm, Φ560x500mm,Φ590x600mm, Φ610x520mm,610x600mm, Φ640x630mm,Φ680x650mm, Φ750x650mm,Φ810x700mm
cylindric rods: Φ400x450mm, Φ450x450mm,Φ480x500mm, Φ500x600mm,Φ520x350/600mm, Φ560x500mm,Φ590x600mm, Φ610x520mm,Φ610x600mm, Φ640x630mm,Φ680x650mm, Φ750x650mm,Φ810x700mm
cylindric rods:Φ400x450mm,Φ450x450mm, Φ480x500mm,Φ500x600mm,Φ520x350/600mm, Φ560x500mm,Φ590x600mm,Φ610x520mm, Φ610x600mm,Φ640x630mm,Φ680x650mm, Φ750x650mm,Φ810x700mm
cylindric rods:Φ770x650mm,Φ700x650mm, Φ640x615mm,Φ565x525mm,Φ515x355/550mm, Φ410-470x800mm,Φ410x415/525mm,Φ470x415/525mm, Φ610x600mm,Φ640x630mm,Φ680x650mm,Φ750x650mm, Φ810x700mm
Rectangular blocks: 400x400x400mm,400x400x500mm, 400x400x600mm,1000x500x290mm, 1300x500x300m
Rectangular blocks: 400x400x400mm,400x400x500mm, 400x400x600mm,1000x500x290mm, 1300x500x300m
Rectangular blocks: 400x400x400mm,400x400x500mm, 400x400x600mm,1000x500x290mm, 1300x500x300m
Rectangular blocks: 1300x650x310mm,1300x510x410mm, 1000x410x330mm,1100x1100x310mm, 910x310x210/310mm,770x210x140/150mm