Company Profile
CNBM INTERNATIONAL CORPORATION
Build your world with our materials.
We are a primary subsidiary of China National Building Material Group Co., Ltd.
CNBM Group is a central government-owned enterprise and a Fortune Global 500 company (Ranking 203th in 2019). It is the largest building material manufacturer and service provider in the world, with 15 publicly-listed companies and over 180,000 employees (2019).
We have more than 300 factory plants in China. For the refractory, we are top 3 in China. We have more than 17 plants in different cities.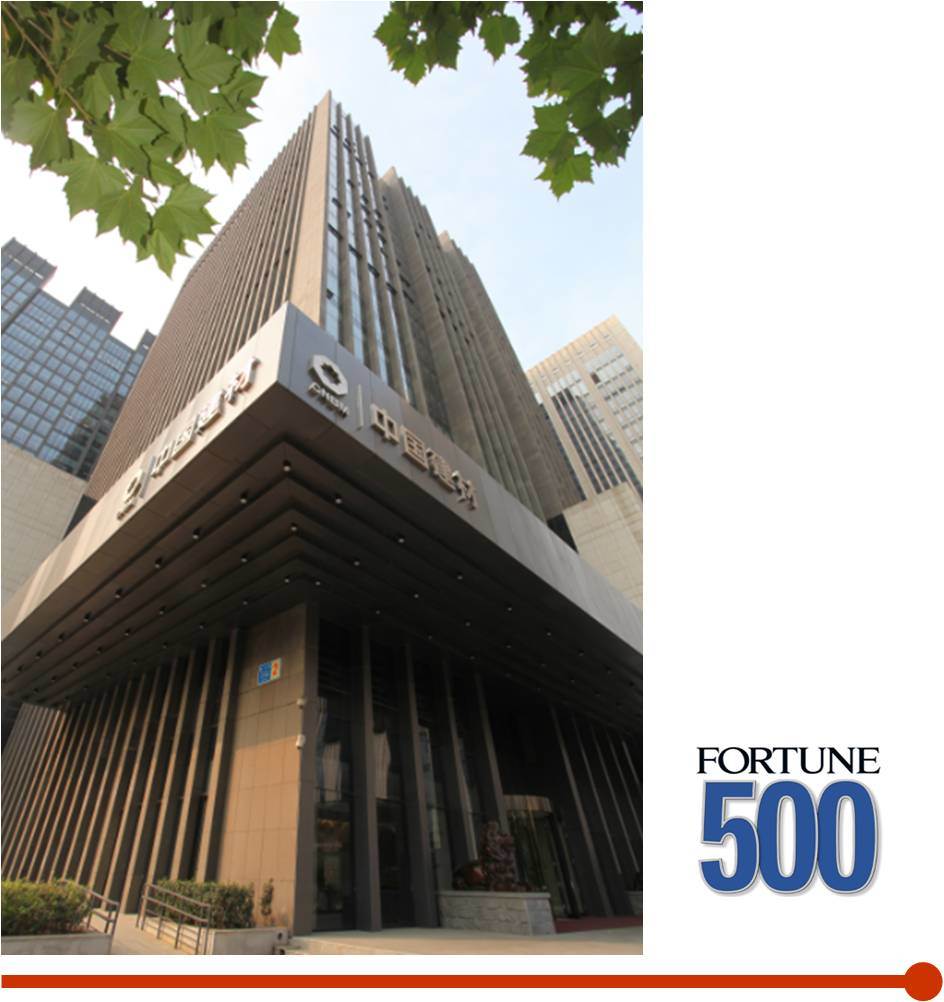 Refractory Plants
Our plant is one of the research institutes on refractory materials in CNBM. It was set up in 2001. Taking the advantages of combining research,process,marketing and technical service,
CNBM
supply not only
first-class refractory materials
but also supply
distinctive technical services
.
·
17 plants in different cities.
·
A

nnual output is 5000,000 tons per year.
·
ISO 9001:2008 certificated
·
The products cover the refractory area of steel-making, cement, non-ferrous, glass, ceramic and others.
Magnesia Carbon Brick
Production Line and Lab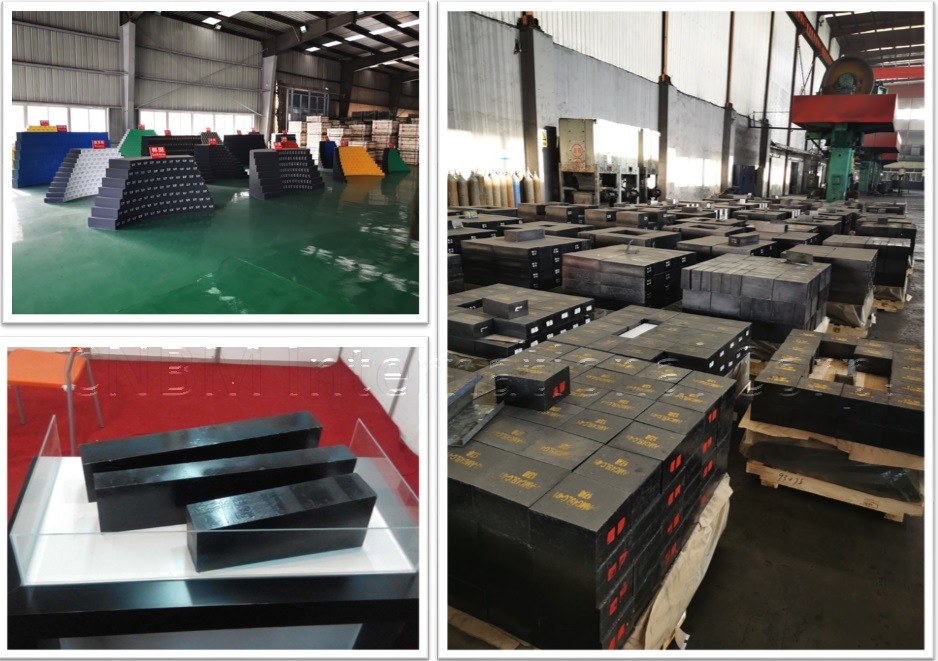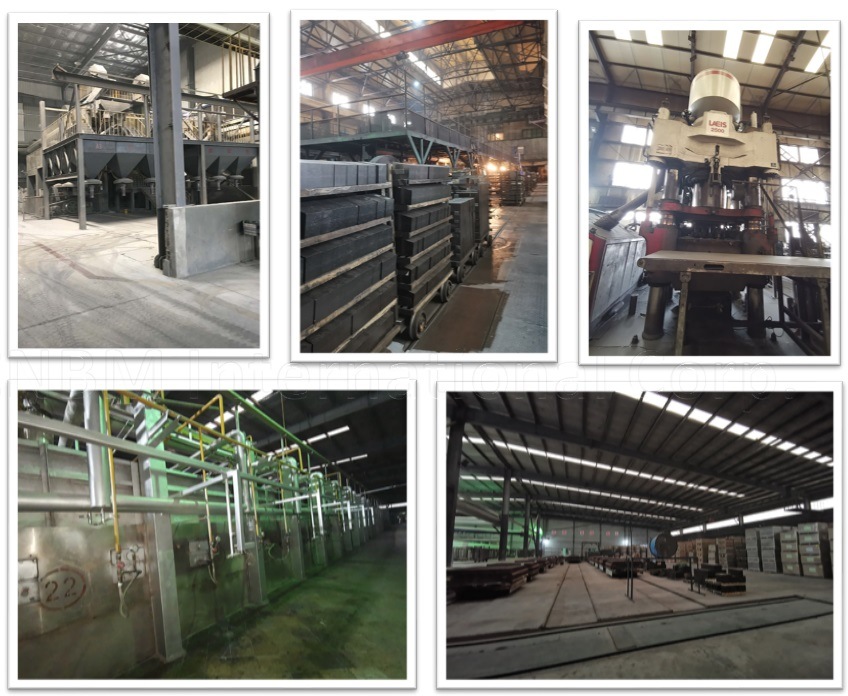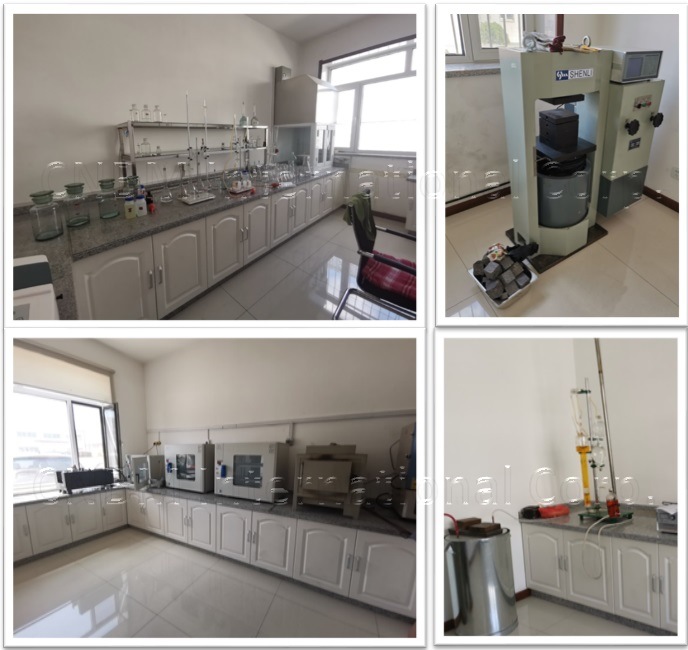 Feature of Magnesia Carbon Brick
Excellent resistance in slag abrasion
Higher temperate resistant with good refractoriness
Lower creep in high temp.
Good thermal shock resistance performance
Lower apparent prosity
Not easily wet with slag
Specifications of Magnesia Carbon Brick
MgO and carbon content
Widely used throughout metallurgical industry
Physical And Chemical Indicators For Magnesia Carbon Brick
Item

MZ-97A

MZ-97B

MZ-95A

MZ95B

MZ-93

MZ-91

MZ-89

DMZ98

DMZ97

DMZ96

Density(g/cm3)

≥

2.96

2.96

2.94

2.94

2.94

850

900

3.1

3.1

3

Cold Crushing Strength
(Mpa)

≥

60

60

60

60

60

60

50

90

90

90

Reheating Linear Change (%)

1650

ºC

x 2h
0~ -0.2
1650

ºC

x 2h
0~ -0.3
1650

ºC

x 2h
0~ -0.4
1650

ºC

x 2h
0~ -0.6

-

-

-

Refractoriness Under Load(

ºC

)

≥

1700

1700

1650

1650

1620

1560

1550

1700

1700

1700

Apparent Porosity (%)

≤

16

18

16

18

18

18

20

14

14

15

MgO(%)

97.0

96.5

95.0

94.5

93.0

91.0

89.0

97.7

97.1

96.3

SiO2(%)

1.0

2.0

2.0

2.0

3.5

-

-

0.58

0.97

1.20

CaO(%)

-

-

2.0

2.0

2.0

3.0

3.0

0.63

0.97

1.30

Application

Kiln Linning in Iron and Steel, Copper, Lead, Tin and Zinc
Industries
The Tap Hole of Steel
Furnace; Tap Hole and
Slag Line in Non-Ferrous
Industry
Test report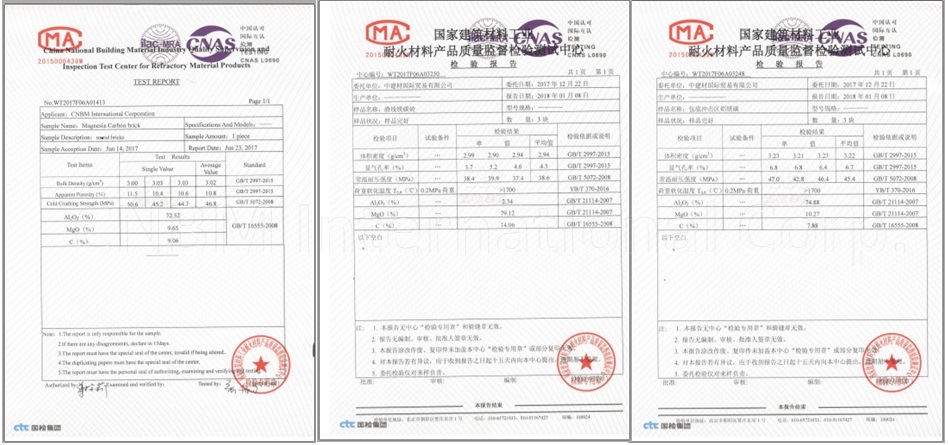 Our Services
Free samples are available by freight collect;

Strict QC & Fast delivery

High quality goods, Perfect Pre-sales and after-sales service.

CNBM will update you any production process after placing order.

We have special after-sales team to solve your problem during using our products.

Any question will be get our feedback in the first time.
Package & shipping
Package : Packed by sea-worthy wooden pallet + shrink wrapped + carton
For example, Standard size of Fireclay brick : 230X114X65mm
Shipping : 384PCS/plt X 18plts in one 20 feet container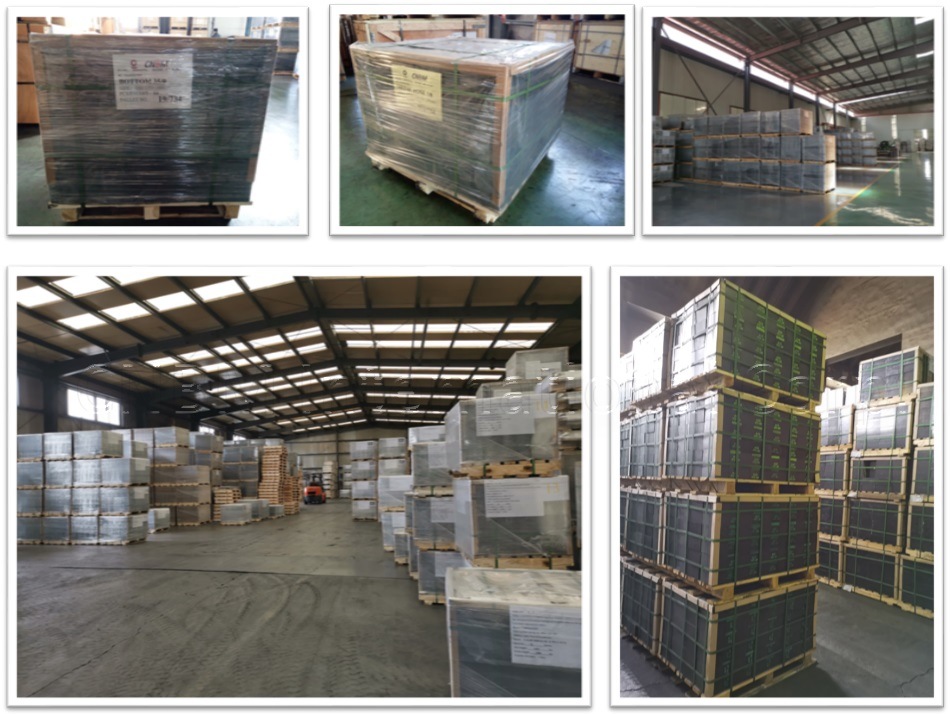 Proprietary Technology & Patented Products
Refractory technology
All process are conform to ISO9001 quality control systems
(1)The test of raw materials


★For all raw materials, the purchase department give the test report to the quality supervision department.



(2)The control of production


★Each batch products will be tested
★The quality supervision department record all test result.



(3)Test Before Production


★Before packing, the quality supervision department test the chemical content and physical
★Only quality products can be delivery.
★The delivery department check the package, quantity, name, code, production date, etc.



(4)Quality Traceability Analysis


★Track the products after using and get the feedback of performance.

If customer required, we will give the customer technical solutions and also improve the products.
Damage Mechanism Analysis and Improvement
★ For the maintenance project, CNBM will check the damage condition of the refractory materials in the furnace carefully.
★And then CNBM will give the damage mechanism analysis report to the customer.And CNBM also will provide products improvement solutions to extend the products' service life.
Technical Solution& Construction
★Optimization solutions of the original design to the customer.
★Consultation Service of Refractories Technology
★Technical Staff Training in Refractories Technology
★Specialized Design and Refractories Selection
FAQ
Q:Are you a trading company or manufacturer?
A:CNBM is a large-scale central governmental industrial group with its own manufacturing sector, research and development sector, trading sector and logistics sector.

Q:I have some special requirement about specifications.
A:We have a well-rounded product range, which endows us with the capability of applying many special specifications. Please feel free to contact us with yours.

Q:Do you accept OEM service?
A:Yes, we do.

Q:What is your delivery time?
A:It depends on the size/complexity of your order and our own production schedule. Usually we provide a faster delivery than the industry's average.

Q:What is the payment term?
A:Our payment terms are negotiable.

Q:Can I have my own logo on the product?
A:Sure, we can apply your own logo on the products according to your drawings.